Hotel 1000, Lxr Hotels & Resorts - Seattle
47.60496

,

-122.33631
359US$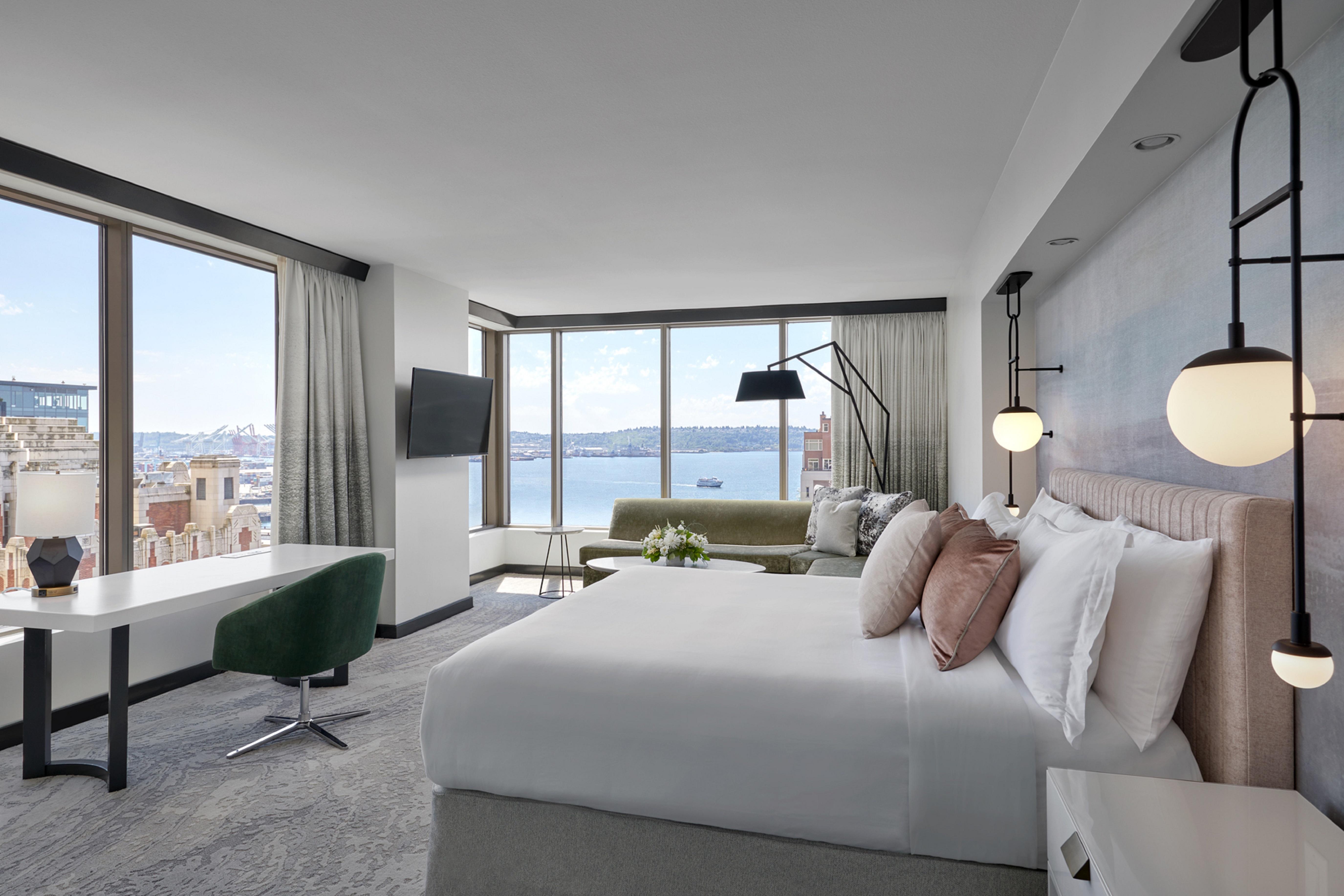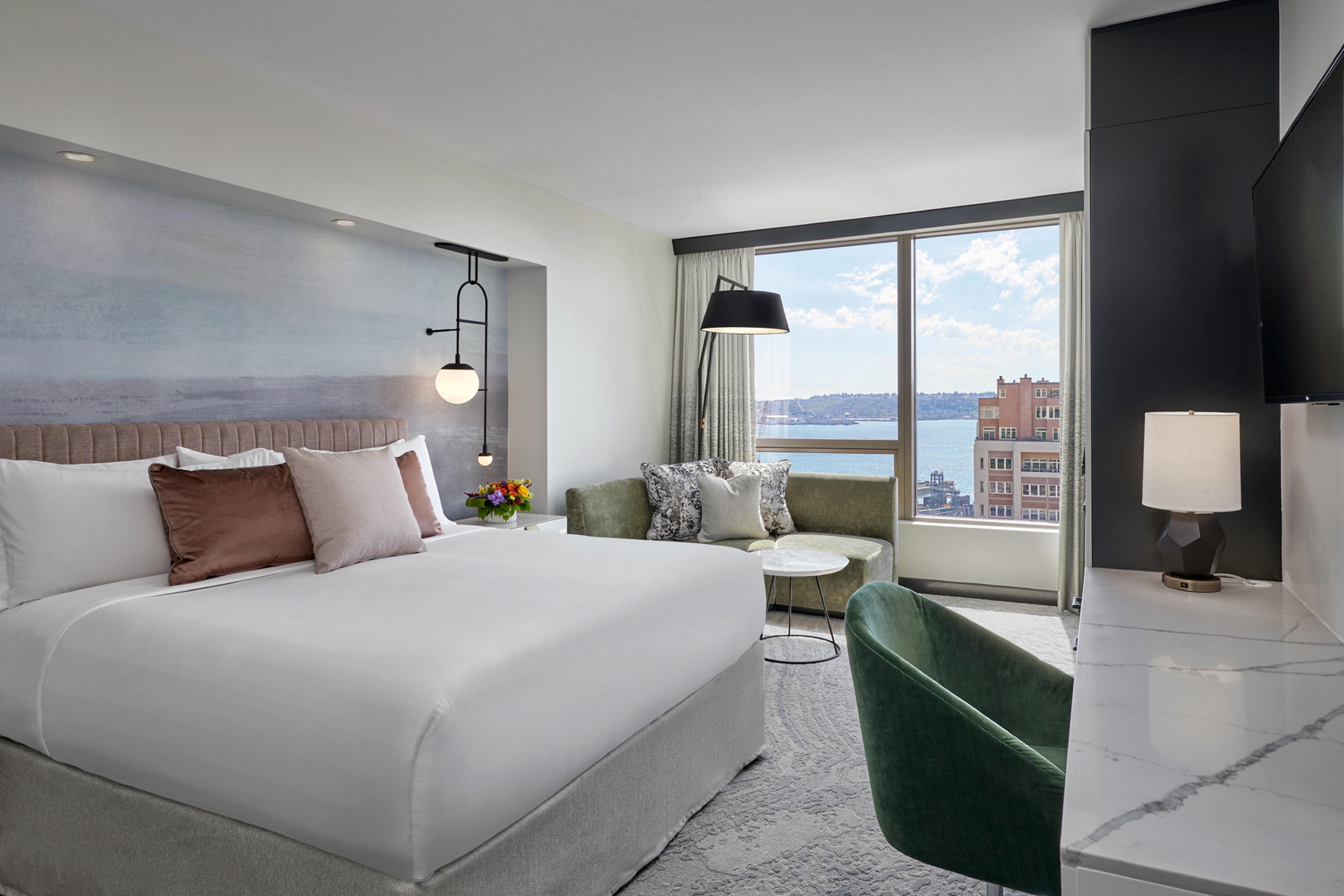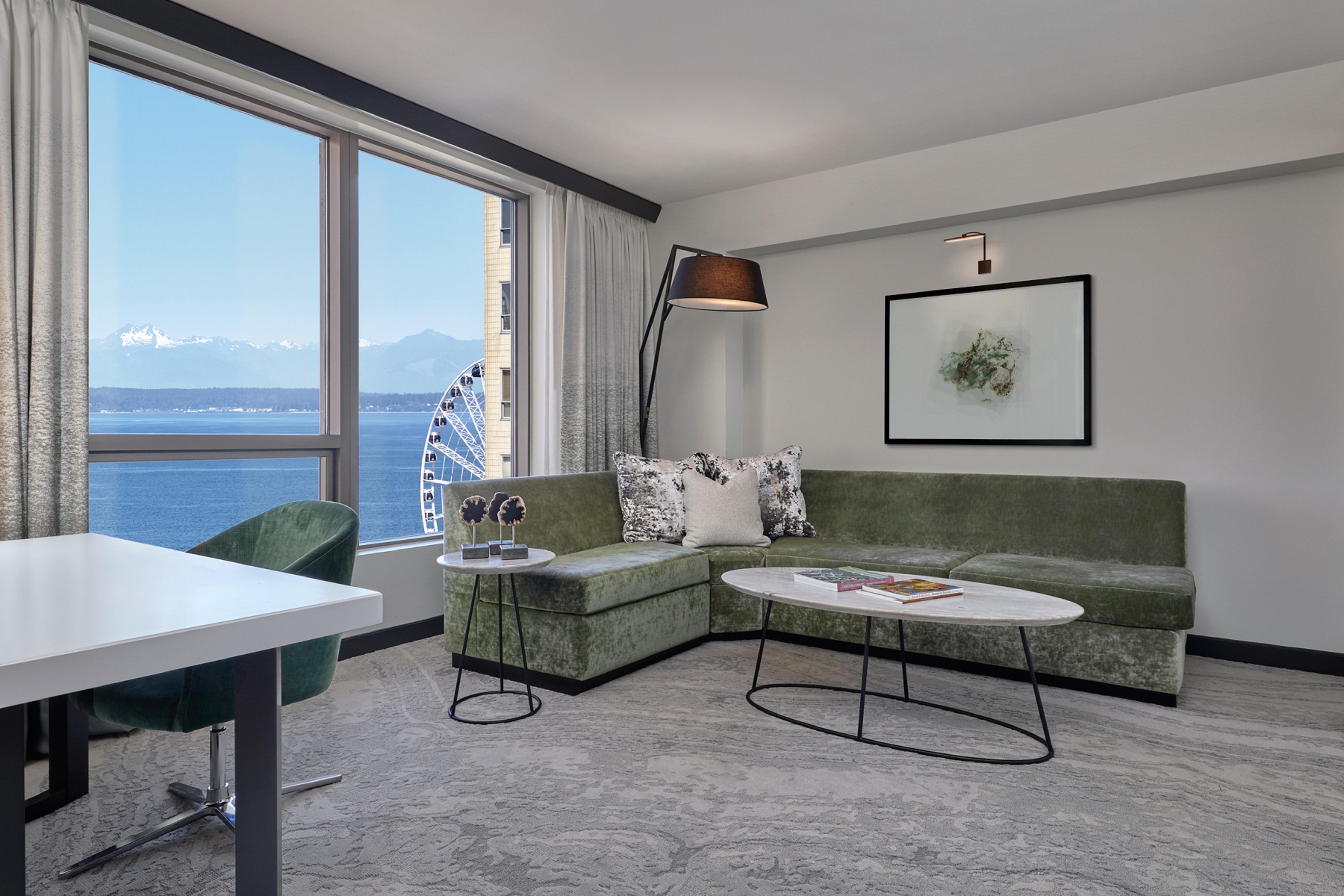 Address
1000 First Avenue
,
Seattle
,
Washington
,
United States
,
98104
, Washington State
Overview
Featuring full spa with a body scrub, pedicure and manicure, the tasteful 4-star Hotel 1000, Lxr Hotels & Resorts Seattle is located 10 minutes' stroll from Can Can. Set within a close distance from Seattle Aquarium, this hotel features an American restaurant serving American cuisine.
Location
The center of Seattle can be reached within a 5-minute walk, and natural attractions like Waterfront Public Park are approximately 0.4 miles away. Pioneer Square Park located merely 11 minutes by foot from the fine hotel, and the flagship Seattle Public Library is close by. In addition, the property lies at the edge of convention centers and 5 minutes by car from T-Mobile Park Baseball Stadium. For sport fans Hotel 1000, Lxr Hotels & Resorts offers access to the multi - purpose stadium "CenturyLink Field", which is 0.8 miles away.
Also, a trolley bus stop is situated near this Seattle hotel.
Rooms
The upscale property welcomes guests to 135 quiet rooms. Some of them come with a flat-screen TV with satellite channels along with a coffeemaker and a mini bar. These luxury units are furnished with large floor-to-ceiling windows along with a work desk. Equipped with a spa bathtub and a separate toilet, the modern bathrooms have a hairdryer and toiletries. Some units also boast sea views.
Eat & Drink
A cooked-to-order breakfast is offered at 1000, Lxr Hotels & Resorts Seattle. The acclaimed restaurant offers light meals. Guests will enjoy American meals at All Water Seafood & Oyster Bar, which is just a short walk away from the upscale hotel.
A full breakfast is served at the price of US$20 per person per day. 
Leisure & Business
The onsite sports facilities include fitness classes and a gym area. There is a gym facility with a wide range of sports. Business guests also get access to a 24/7 business center including computers and a work desk.
Internet
Wireless internet is available in the entire hotel for free.
Guest Parking
Private parking is possible on site at USD 60 per day.
Year renovated:   2010.  Number of floors:   14.  Number of rooms:   110.
Former name: Hotel 1000
Best-Rated Loews Hotels Hotels around Seattle
With an unwavering commitment to creating personalized experiences and offering unparalleled luxury at affordable prices, Loews Hotels is the ultimate destination for travelers seeking exceptional service, comfort, and value. With state-of-the-art facilities, top-rated restaurants, and unique amenities, such as pet-friendly accommodations and wellness programs, Loews Hotels ensures its guests have an unforgettable stay. Experience the best with Loews Hotels.
529 reviews

131$ / night

268 reviews

155$ / night

989 reviews

256$ / night

56 reviews

119$ / night

170 reviews

96$ / night

59 reviews

42$ / night

1165 reviews

239$ / night

123 reviews

189$ / night
Facilities
Most popular facilities
Food/ Drinks
Bar/ Lounge area
Restaurant
Welcome drink
Spa and relaxation
Massage
Spa & wellness center
General
Wi-Fi
Parking
Baggage storage
24-hour services
Food/ Drinks
Fitness/ Gym
Spa and relaxation
Laundry
Sports & Fitness
Fitness center
Golf course
Services
Room service
Housekeeping
Laundry
Dry cleaning
Welcome drink
Happy hour
Dining
Restaurant
Bar/ Lounge area
Business
Business center
Meeting/ Banquet facilities
Fax/Photocopying
Children
Children's menu
Game room
Spa & Leisure
Spa & wellness center
Massage
Room view
Sea view
City view
Water view
Room features
Air conditioning
Heating
In-room safe
Mini-bar
Sitting area
Tea and coffee facilities
Media
Flat-screen TV
Cable/ Satellite television
Telephone
AM/FM alarm clock
Good to know
Check-in
from 16:00-23:59
FREE
Check-out
until 11 am
FREE
Children & extra beds
There are no extra beds provided in a room. 
Pets
Pets are allowed on request.
Rooms and availability

Bed options:

Max:

3 persons

Bed options:

Max:

4 persons

Location
1000 First Avenue
,
Seattle
,
Washington
,
United States
,
98104
, Washington State
City landmarks
Nearby
Restaurants
Hotels nearby
Museum
Chihuly Garden and Glass
1.3 mi
325 5th Ave N Seattle Center
Museum of Pop Culture
1.3 mi
800 Occidental Ave S
CenturyLink Field
4100 ft
Event hall
Washington State Convention Center
3300 ft
Park
Olympic Sculpture Park
1.2 mi
Planetarium
Pacific Science Center
1.4 mi
Theatre
Seattle Children's Museum
1.3 mi
Museum
Wing Luke Museum of the Asian Pacific American Experience
4800 ft
University
Seattle University
1.1 mi
Giant wheel
Seattle Great Wheel
1900 ft
Museum
Seattle Art Museum
1000 ft
Library
Seattle Public Library
1200 ft
700 4th Ave 73rd floor
Sky View Observatory
1900 ft
cnr Cherry St & 1st Ave S
Square
Garden of Remembrance
1100 ft
1001 Alaskan Way Pier 54
Ye Olde Curiosity Shop
1000 ft
1300 1st Ave Intersection of First Avenue and University Street
Alaskan Way
Seattle Waterfront
1700 ft
Restaurant
Bookstore Bar & Cafe
200 ft
Restaurant
Ivar's Acres of Clams
900 ft
Restaurant
Elliott's Oyster House
1400 ft
Restaurant
The Crab Pot Seafood Restaurant
1700 ft
Restaurant
The Owl 'N Thistle Irish Pub and Restaurant
700 ft
Restaurant
Von's 1000 Spirits
900 ft
Getting around
Airports
Seattle Seaplanes;Seattle Seaplanes Seaplane Base (LKE)
2.2 mi
Boeing Field/King County International

(BFI)
6.8 mi
Train
King Street Station
3000 ft
Seattle Center Monorail
1.3 mi
You can book a shuttle, once your reservation is complete.
Reviews of Hotel 1000, Lxr Hotels & Resorts
Cyril

We had an amazing Christmas stay at this hotel! The staff was extremely friendly and helpful. We loved the complimentary breakfast and the cozy fireplace in the lobby area. The room had a nice view and was very clean. The location was perfect, close to the main shopping centers and restaurants.

Unfortunately, the gym and pool area were under construction during our stay. The noise from the construction was a bit disturbing. Also, the restaurant prices were a bit high, but the food was delicious.

Andrea

Amazing location, perfect for christmas with two complementary treats. The staff went above and beyond to make sure we felt at home during our stay.

Our room was located right next to a construction site that caused a lot of noise and disturbance throughout our stay. It was not communicated to us prior to our arrival, which was disappointing. The room was also pretty basic and could have been more well-maintained.

Ken

Hotel location was convenient & staff was friendly. Room was spacious & had good lighting. Also, there were complimentary morning coffee & water bottles provided.

There were some negative aspects. The room service breakfast was not satisfactory as it was served without milk/cream. I had to call again to get it. Some room items were not functioning properly such as the shower handle repeatedly came off, and lights would flicker on and off when dimmed.

Helen

Hotel is a reasonable base for a weekend in Seattle. It was nice to have a personal safe, multi-channel television and a work desk. Property's concierge helped us a lot...

Oliver

Large, very nicely furnished room and bathroom. Very friendly staff.

Lots of building activity all around. But the hotel can't help that.

missing

The staff were very helpful and friendly. The room was wonderful with an excellent view of the city and sound. Location was perfect for walking around the city. Pike Place was easy walking distance as well as fabulous restaurants. I really don't think there is any reason not to like the hotel.

missing

Almost perfect. Comfort, attention to detail, and the right amount of modern panache made it a wonderful choice for our 20th Anniversary. Close enough to many great restaurants and events to walk, and for those farther a Caddie transport was usually available to drop us off and pick us up. Friendly staff at all levels, but not "to a fault", if you understand what I mean. No intrusions to our 4 day trip, yet always available to help. We will have no choice but to return for a repeat performance.

No complaints at all. I forgot a computer cable - they provided it. I needed a cab to a restaurant - they dropped us off in a Caddie instead. Parking downtown is impossible in Seattle, so the $36/day valet service understandable, but steep.

missing

We were offered an upgrade, without our asking, at a reasonable rate. The room was very nice, elegant and well-appointed and the bathroom was large and comfortable. We were offered our choice of newspapers, and free Internet access.

We needed to check in online for our flight, and the internet connection in the room did not work. A technician was sent to our room to solve the problem.

missing

Appreciated the champagne welcome at the front desk, very friendly and informative about the amenities. Also appreciated the t.v. with our name on it saying "welcome". Felt personalized.

T.V. had technical issues, had to be reset by maintenance. Not a big deal, but a minor annoyance.

missing

The atmosphere was comfortable while maintaining a youthful feel.

missing

I enjoyed the room! The resterant was splended aswell. The bathroom was amazing! I never take bath, but I jus had to at hotel 1000, the tub was huge! I would totally stay again

The only thing I did not like about the hotel was how confusing the payment was... but everything else was perfect!

missing

Very chic and modern decor, loved the rainforest shower! Food very good in Boka, the hotl restaurant. Staff very friendly and helpful.

missing

The room was incredible, with one of the most comfortable beds I have ever slept on. The office chair also deserves a shout out, so comfortable that I researched what it was because I would love to own one for my personal use. Its a Davis Lucid series chair, and is extremely comfortable. The bathroom was incredible, as was the view of downtown Seattle.

missing

Awesome, great service, great room - got free upgrade to executive suite that was cavernous!

missing

My husband and I stayed at the Hotel 1000 for 8 days and thoroughly enjoyed our stay. The hotel is beautiful and the staff is friendly and very accommodating. The location is very convenient to the Seattle highlights. We would highly recommend this hotel for business or pleasure!
FAQ about Hotel 1000, Lxr Hotels & Resorts
What is the distance from the perfect 4-star Hotel 1000, Lxr Hotels & Resorts to Seattle city center?
The perfect 4-star Hotel 1000, Lxr Hotels & Resorts is located in Downtown Seattle district in the very heart of Seattle.
Which landmarks should we visit during our stay in the 1000, Lxr Hotels & Resorts?
Staying in the 1000, Lxr Hotels & Resorts guests can visit T-Mobile Park Stadium (1.1 miles), Can Can (0.4 miles) and Pioneer Square Park (0.5 miles), among others.
Which landmarks are the closest to Hotel 1000, Lxr Hotels & Resorts Seattle?
Staying at Hotel 1000, Lxr Hotels & Resorts Seattle, guests will have a chance to visit Seattle Aquarium located just 9 minutes' walk from the property, and attend the closeby attractions, the flagship Seattle Public Library (0.2 miles) and Pier 55 (0.3 miles).
Does the perfect 4-star Hotel 1000, Lxr Hotels & Resorts have parking on site?
Yes, guests of the perfect 4-star Hotel 1000, Lxr Hotels & Resorts can leave their car in parking on site.
Does the hotel serve breakfast?
The hotel offers made-to-order and continental breakfast types, served daily in the restaurant.
What is the timeframe for check-in and check-out in the Seattle hotel?
Guests of the Seattle hotel can check in from 4 PM to 11.59 PM and check out from 11 AM. Late check-in is also possible by prior arrangement with the property.
Which facilities are included in the rooms of the perfect 4-star Hotel 1000, Lxr Hotels & Resorts Seattle?
Certain suites at the perfect 4-star Hotel 1000, Lxr Hotels & Resorts Seattle boast views over the sea as well as feature a flat-screen TV with satellite channels and a safe and smoke detectors for security reasons.
What business facilities does the 4-star 1000, Lxr Hotels & Resorts provide?
For business travelers the 4-star 1000, Lxr Hotels & Resorts offers a 24-hour business center with computers and a work desk.
Is there a bar at the perfect 4-star Hotel 1000, Lxr Hotels & Resorts?
Guests of the perfect 4-star Hotel 1000, Lxr Hotels & Resorts are welcome to relax at the onsite lounge bar.